A Full Set of Stable New Teeth in a Single Day
Thanks to modern implant techniques, Dr. Schulz is able to provide permanently fixed-in new teeth that look and feel natural and have close to 100 percent chewing power. Using a revolutionary new method called "New Teeth in One Day," he is able to perform any needed extractions, place all necessary implants and attach a new, fixed-in set of replacement teeth all on the same day.
Your new teeth will be completely stable in your mouth, and won't slip or irritate your gums. Due to the advanced technology used in the procedure, bone grafting is unnecessary for most patients, including patients who have experienced severe bone loss and were therefore not candidates for dental implants in the past.
Experienced and skilled replacement of missing teeth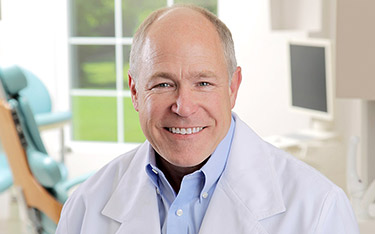 Dr. Schulz is highly trained and experienced in all aspects of replacing missing and broken-down teeth. He has completed extensive postgraduate training at the prestigious L.D. Pankey Institute, which specializes in advanced education in high-level restorative dentistry, and has done many hundreds of hours of continuing education in providing restorations and dental implants. Dr. Schulz is also a renowned trainer of other dental practitioners, and is internationally recognized for his expertise in state-of-the-art digital and 3D dental technologies.
How New Teeth in One Day Works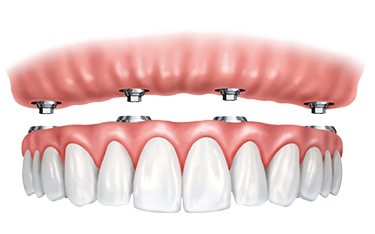 During the New Teeth in One Day procedure, four or more specially designed implants are placed in strategic positions where the bone is able to provide strong support. The implants are placed at a precisely calculated angle to take advantage of dense bone that is already available in the jaw.
This eliminates the need for bone grafting for most patients, even many patients with severe bone loss who were not candidates for implant-supported teeth in the past. The New Teeth in One Day system works for nearly every patient and has made getting permanently fixed-in replacement teeth faster and more affordable.
The entire procedure takes only one day. Dr. Schulz will perform any needed extractions, place all your implants and immediately provide you with a temporary and functional set of replacement teeth to wear while your implants heal. Your final, permanent new teeth will be placed once healing of your implants is complete.
Beautiful new teeth
Your final new teeth can be crafted from a variety of top-quality materials. Dr. Schulz will go over the options with you and will make recommendations based on your individual situation and needs.
Advantages of Permanently Fixed-in Teeth
You can easily eat all the foods you need—Since your new teeth will provide nearly the same chewing power as natural teeth, you'll be able to eat all the foods you need for proper nutrition without having to resort to a blender.
You won't experience irritation or sores—Your fixed-in teeth will not slip as they are firmly fixed onto the implants. Chewing will be comfortable and you won't get the painful sores that result from loose-fitting dentures.
Your upper teeth have no false palate—Your new fixed-in teeth will have no false palate that inhibits your sense of taste and your perception of heat and cold. Eating and drinking will be safer and more enjoyable.
Your jawbone will be preserved—The jawbone needs stimulation from regular chewing and biting forces on the tooth roots to maintain its density and volume. When teeth are missing, this stimulation is absent, and the bone in the jaw starts diminishing as part of a natural biological process. Traditional dentures do not provide the pressure needed to keep the bone from getting smaller, and in fact only exacerbate this effect. Implants exert the right kind of pressure and help prevent further bone loss.
Our New Teeth in One Day Procedure
Dr. Schulz is very meticulous with each step of the procedure to ensure a stable, long-lasting and aesthetically pleasing result.
Advanced 3D diagnostics
Dr. Schulz conducts a full oral exam which includes digital X-Rays and a 3D CT scan. The scanner takes a series of digital X-rays in a complete circle around your head and processes them into crisp, 360-degree views of your teeth, jawbone and surrounding structures. The 3D images show Dr. Schulz where the bone is adequate to support implants, allowing him to plan your treatment with complete precision.
Computer-guided treatment planning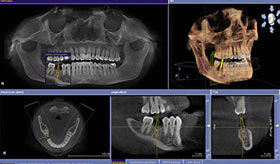 With a Galileos X-ray, Dr. Schulz can see what's going on from every angle, in a wide view, very close-up and every step in between.
Dr. Schulz loads the 3D images from the CT scanner into special implant planning software and maps out the exact position, depth and angle of each implant ahead of time.
Surgical guide
Using his 3D treatment plan, Dr. Schulz creates a surgical guide that has precise markings for the positions and angles of your implants. The guide is placed over your gums on the day of surgery and makes implant placement minimally invasive, as well as highly accurate and efficient.
Implants and functional new teeth the same day
On the day of your procedure, Dr. Schulz will extract any remaining teeth, place all your implants and fit you with an aesthetic, well-fitting and functional set of temporary teeth to wear while your implants heal.
Your beautiful, final new teeth
Once your implants have healed, Dr. Schulz will permanently fix in your final new teeth. Your new teeth will give you a well-aligned bite, will be lifelike, and will have nearly the same strength and chewing power as natural teeth. You will be able to easily eat all the foods you want, and will smile again with confidence!
Come in for a Consultation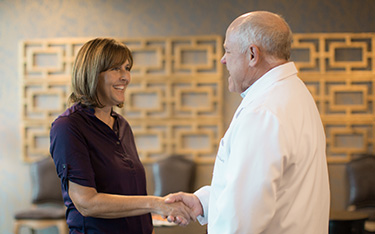 If you are wondering if New Teeth in One Day might be right for you, come and see Dr. Schulz for a consultation. He will:
Examine your teeth and jaws
Find out about your needs and goals for your smile
Explain your treatment options
Help you decide on the best way to restore your smile to full health and function
To make an appointment, call 913-649-3313 or click here to request an appointment online.