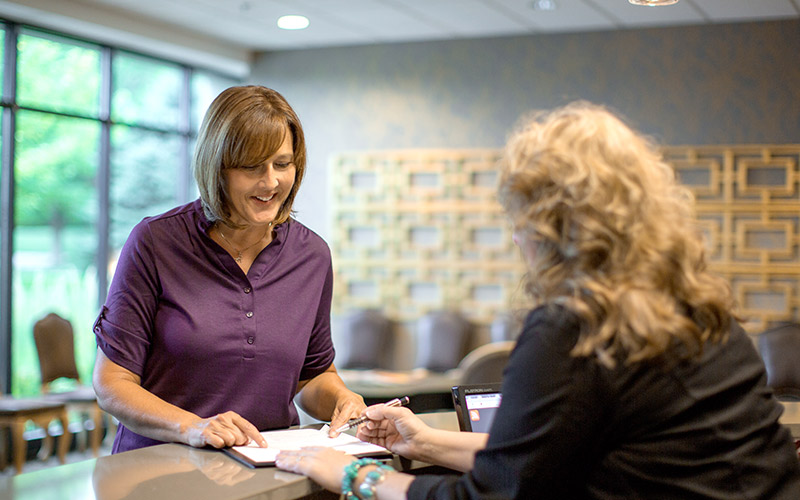 At Corporate Lakes Dental, we know how important it is for you to keep your mouth healthy, and to retain your natural teeth for as long as possible. No matter what condition your teeth are in, right now is the best time to take care of them.
Even if you have been afraid to visit the dentist, please come and see us. Dr. Schulz will give you a very careful evaluation and help you to take care of and preserve your teeth, one step at a time.
Check-ups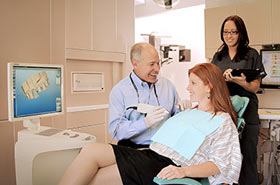 Dr. Schulz will give you a thorough exam when you come in for a checkup.
At Corporate Lakes Dental, we complete a comprehensive exam when you come in for your first check-up. This includes digital x-rays and a full oral exam using the DIAGNOdent laser-assisted cavity detection equipment, a complete periodontal exam (evaluating the state of your gums and any changes to your tooth structure) and a cancer screening. If you have any cavities, we'll give you pain-free, tooth-colored fillings.
Subsequent routine exams include the full oral exam, DIAGNOdent laser cavity detection, periodontal exam and cancer screening. To minimize exposure, we will take x-rays once a year unless needed.
Every patient at Corporate Lakes Dental has an individual recall schedule to remind them of when it's time to come in for their next check-up and cleaning. This helps them maintain their teeth in good condition and keep them for a long, long time.
To make an appointment, call 913-649-3313 or click here to request an appointment online.
Teeth Cleaning
Our excellent dental hygienist, Valerie is very experienced and knows how to clean your teeth gently and very thoroughly. Our patients rave about her caring and competence, and routinely give her high praise and thanks.
Good oral hygiene is important to prevent a variety of dental and medical problems.
Recent research has shown that the bacteria present in gum disease are also found in the plaques clogging arteries in people with heart disease.
If you need deep cleaning or gum treatment, you'll find that our high tech laser or ultra-sound treatments are extremely effective and pain free. Click here to learn more about our gum treatments.
To make an appointment, call 913-649-3313 or click here to request an appointment online.
What our patients say about their Check-Ups and Cleanings
"Went in for a cleaning and the dental assistant did a great job and was friendly. Never mind going to the dentist at Corporate Lakes!"– John S.
"Love this office and its employees! Have seen Dr. Schultz for 6 years and think he does a fabulous job and is very warm, honest, etc. And I absolutely LOVE Valerie – one of the hygienists there. She's the BEST!"–Amy B.
"Love to get my teeth cleaned! See you next time!" –George P.
"Valerie is awesome! I always enjoy coming." – Alice C.
"Nice, efficient office. Personable, honest dentist and quick, amazing hygienist staff."—Brad K.
"There was no waiting time. The hygienist who cleaned my teeth was very friendly & did her job efficiently & painlessly."—Paul M.
"The dental hygienist is fantastic! Very professional and very personable too! She is so easy to like!" Teryn P.
To make an appointment, call 913-649-3313 or click here to request an appointment online.