"Excellent state of the art, high-quality dental care by a pleasant and efficient doctor and staff. I have been a patient of Dr Schulz for about 15 years."
- Dr. JM.
"Dr. Schulz utilizes new technology very effectively in his practice. His staff is competent and courteous."
- - Shawna T.
913-534-8882
Dental Implants in Overland Park
New teeth that look and feel natural
Dr. Douglas Schulz has had extensive training and experience in restoring his patients' smiles with dental implants. A dental implant is used to replace a missing tooth. It is commonly composed of a titanium metal screw and a ceramic crown. Our oral surgeon places the post surgically, and, after healing, Dr. Schulz places the crown.
Complete implants, start to finish
Getting implants at Corporate Lakes Dental is very simple. We can take care of everything right here in our office in just a few simple steps:
In a Complimentary Consultation, Dr. Schulz can let you know if you are a candidate for dental implants


Dr. Schulz will supervise your dental implant procedure right here in our office from start to finish.


You can have the entire procedure done under one roof and in less time.
Click on a link to find out more about dental implants:
Call us at 913-534-8882 to make an appointment or click here to request an appointment online.
We use advanced technology for precision implants
Because Dr. Schulz works with the Galileos 3D digital X-ray machine, planning for your implant is convenient and easy. He can be certain right away about the amount of bone that you have availalble to support an implant. He can also plan your post placement precisely with the oral surgeon, to make sure that your implant is completed with a perfectly balanced bite.
Click here to find out more about our use of advanced 3-D technology.
High quality porcelain crowns create a beautiful smile
When creating and placing the crown portion of the dental implants, Dr. Schulz uses CEREC technology, a breakthrough 3-D imaging and milling technology that allows him to create perfectly fitting and color-matched teeth out of high-grade porcelain.
Experienced leader in implant technology
Dr. Schulz is a leader in CEREC Technology. He's used it to create hundreds of dental implant restorations for patients, and he regularly trains other dentists in the exacting techniques needed to do this.
Click here to find out more about our use of advanced CEREC technology.
When you are getting dental implants, you want to be sure that you are getting the best treatment possible. You want your dentist to be knowledgeable about implants, easy to understand, and gentle in his treatment. Come in for a Complimentary Consultation, and find out why Dr. Schulz is exactly what you want.
Come in for a complimentary consultation
In a no-charge consultation, Dr. Schulz will:
Examine your teeth and jaws

Discuss your needs

Explain your recommended treatment plan

Help you decide on the best way to restore your smile to full health and function
To schedule your Complimentary Consultation, please call us at 913-534-8882, or click here to request an appointment online.
Before and After
Lucinda P. had severe dental issues as a result of chemotherapy.  After a dental implant and CEREC porcelain veneers, Lucinda's smile is better than ever.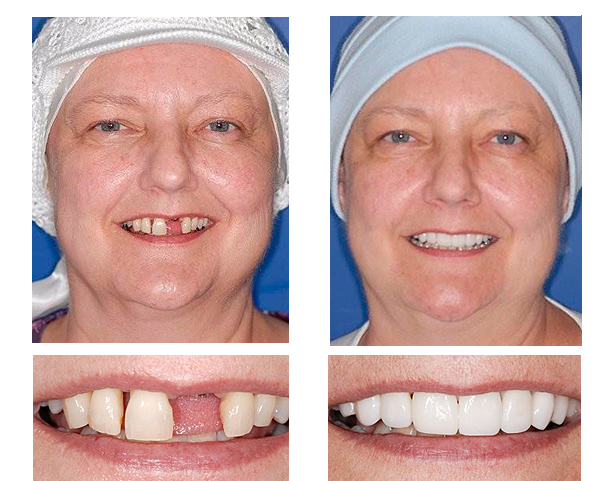 What are dental implants?
A dental implant is a tooth that feels and functions like a natural tooth. It is used where there are missing teeth. It is commonly composed of a titanium metal screw and a ceramic crown. Not only does a dental implant fill unsightly gaps in a smile, it is also important to deter bone loss.
At Corporate Lakes Dental, we use advanced technology to examine your jaw and bite before our oral surgeon places the titanium post, making sure that when your implant is finished, your bite will be natural and the tooth will feel like your own. The tooth portion of the implant is made here in our one-hour CEREC milling laboratory, enabling Dr. Schulz to perfectly fit and color-match your new tooth while you wait.
Long-lasting, beautiful ceramic implants
The tooth restoration part of the dental implant is made in Dr. Schulz's office using breakthrough CEREC 3D technology (high-quality ceramic restorations) to create a tooth that matches your other teeth in shape and color.
CEREC restorations are milled from a single block of high-quality ceramic, a substance which is particularly compatible with the body and has the same characteristics as normal, healthy dental enamel.
Dr. Schulz is an expert in CEREC technology and trains other dentists in the use of ceramic for restorations. Additionally, he has an aesthetic sense of proportion and color, which is vital when crafting natural looking tooth restorations or replacements.

Advantages of Dental Implants
Dental implants are a better alternative to dentures or bridges because
Your mouth will be restored as closely as possible to its natural state

Permanently fixed & won't loosen

Long-lasting

Keeps you looking younger by preventing shrinkage of jaw bone

Deter further tooth loss

No nightly care & adhesives

Allow you to eat all foods

Don't need to cut down adjacent teeth as in bridges
Fixed bridges and removable dentures are not the perfect solution to missing teeth and often bring with them a number of other problems. Removable dentures may slip or cause embarrassing clicking sounds while eating or speaking. Of even greater concern, fixed bridges often require the cutting down of adjacent healthy teeth, and removable dentures may lead to bone loss in the area where the tooth or teeth are missing.
Recurrent decay, periodontal (gum) disease and other factors often doom fixed bridgework to early failure. For these reasons, fixed bridges and removable dentures usually need to be replaced every seven to 15 years, compared to an up to 25-year life span for dental implants.
Are you a candidate for dental implants?
The ideal candidate for a dental implant is in good general and oral health. Adequate bone in your jaw is needed to support the implant. Some people who have lost bone in their jaw still can get implants, but first the bone must be rebuilt using special bone-grafting procedures.
People how are currently wearing partial or full dentures can replace these with dental implants, or use implants to stabilize and secure the denture, making it much more comfortable.
People who are not good candidates for dental implants include:
Young patient whose jawbones have not fully developed.

Pregnant women

People with existing medical conditions. If you can have routine dental treatment, you can generally have an implant placed. While precautions are advisable for certain conditions, patients with such chronic diseases as high blood pressure and diabetes are usually successful candidates for dental implant treatment.

Patients who take certain medications such as steroids or drugs that suppress the immune system.
To schedule your Complimentary Consultation, please call us at 913-534-8882, or click here to request an appointment online.